Recovery plans for endangered mussel species identify propagation of juveniles and translocation of adults as strategies to restore populations to achieve recovery; thus, both hatchery-reared mussels and translocated adult mussels are being used to augment or reintroduce populations into rivers targeted for recovery of endangered mussel species. For example, in the last 5 years federal and state facilities have released thousands of sub-adults (1-2 years old) of more than a dozen endangered species into rivers throughout the Southeast and Midwest. Survival of laboratory-reared mussels and translocated adult mussels released at restoration sites has been documented. Since mussels are long-lived, ongoing monitoring efforts will continue to determine the success of these releases.
The FMCC is currently involved in two mussel population restoration projects in the upper Clinch River in Tazewell and Russell Counties, Virginia and in the Powell River in Lee County, Virginia and Hancock and Claiborne Counties, Tennessee. These projects aim to restore mussel populations killed from a tanker truck spill in 1998 in the upper Clinch River, Virginia near Cedar Bluff, and to restore mussel populations killed or injured from a coal slurry spill in 1996 near St. Charles, Virginia. Both restoration projects are long-term (~10 years) collaborative endeavors involving the Virginia Department of Game and Inland Fisheries, Virginia Tech University and U.S. Fish and Wildlife Service.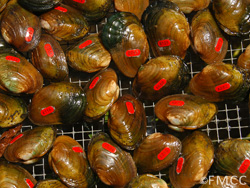 Tagged adult oyster mussels( Epioblasma capsaeformis)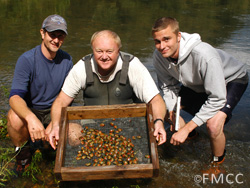 Brett Ostby, Steve Ahlstedt, and Matt Johnson releasing endangered oyster mussels in the upper Clinch River, Virginia, 2006.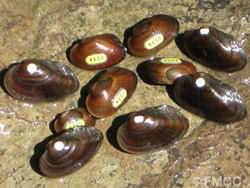 The critically endangered purple
bean mussel (Villosa perpurpurea)
propagated @ FMMC & The Aquatic
Wildlife Conservation Center
near Marion Va (VDGIF)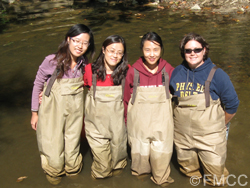 Man Tang, Hua Dan, Yan Li
and Amanda Duncan(VDGIF)
releasing endangered purple
bean mussels.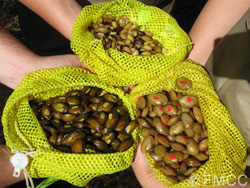 Tagged 1 and 2 year old mussels
propagated(AWCC and FMCC)
for release in upper Clinch River,
near Cedar Bluff, VA.